Art Room News:

October 2021
Second Grade Team A

We LOVE ice cream cones so why not make one with rubbing plates and watercolors! YUMMY 🙂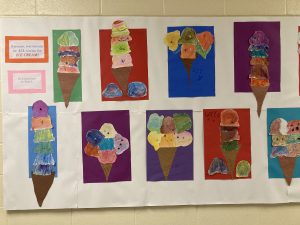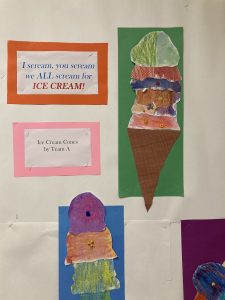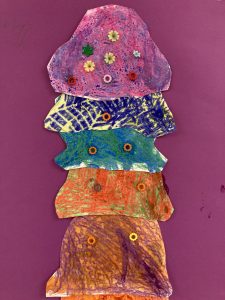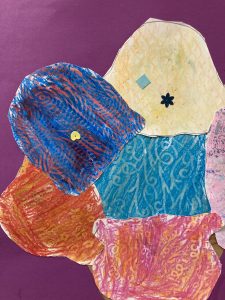 Third Grade Team B
Cursive is the Beautiful Art of Writing. Look at what the Art Element of Line can do with third grade students Names. Just beautiful!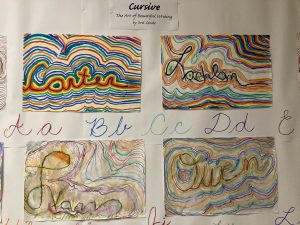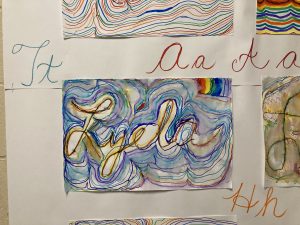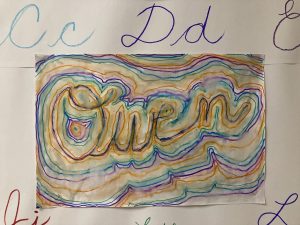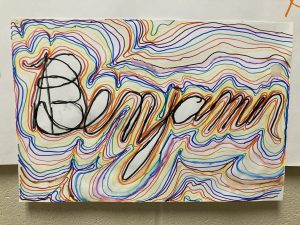 Fourth Grade Team B
Our names are works of Art. We learned about warm and cool colors. The shapes made by capital letters outlined in crayon resists watercolor paints.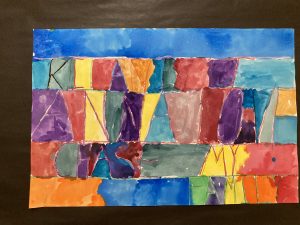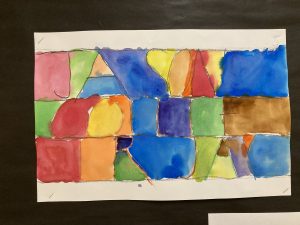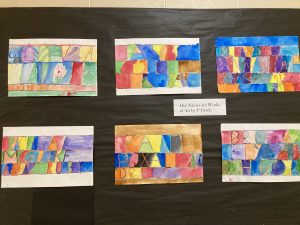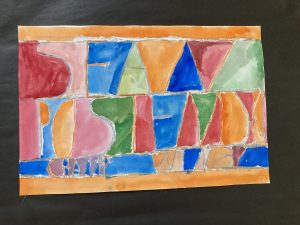 September 2021
Welcome back to the Art Room everybody! Stay tuned to seeing some fabulous work from the Hampton Elementary Art students this year.

The Arts in various forms are integral components of every culture. At 300,000 plus years and counting, other than securing sustenance and making more little hominids, the drive to create art is probably the oldest intentional organized human activity. No other creature makes art. More than anything else Art is what defines humans as HUMAN.

Children Develop Life Skills through Art Activities
Art may seem like fun and games — and it is! — but you may not realize that your child is actually learning a lot through exploring the arts and doing art activities. Your children will gain useful life skills through art, so encourage them to get creative, and you will quickly see that your children are picking up these skills:
Communication Skills: When a child draws a picture, paints a portrait, or hangs buttons from a wobbly mobile, that child is beginning to communicate visually. A child may draw to document an actual experience like playing in the park, release feelings of joy by painting swirling colors, or share an emotionally charged experience like the passing of a loved one through art. Art goes beyond verbal language to communicate feelings that might not otherwise be expressed.
Problem-Solving Skills: When children explore art ideas, they are testing possibilities and working through challenges, much like a scientist who experiments and finds solutions. Should I use a shorter piece of yarn to balance my mobile? This tape isn't holding — what should I try instead? How did I make brown — I thought I made orange? Art allows children to make their own assessments, while also teaching them that a problem may have more than one answer. Instead of following specific rules or directions, the child's brain becomes engaged in the discovery of "how" and "why." Even when experimenting or learning how to handle art materials effectively, children are solving challenges and coming up with new ways to handle unexpected outcomes.
Social & Emotional Skills: Art helps children come to terms with themselves and the control they have over their efforts. Through art, they also practice sharing and taking turns, as well as appreciating one another's efforts. Art fosters positive mental health by allowing a child to show individual uniqueness as well as success and accomplishment, all part of a positive self-concept.
Fine Motor Skills: Fine motor skills enable a child do things like delicately turn the page of a book or fill in a sheet of paper with written words. Holding a paintbrush so that it will make the desired marks, snipping paper with scissors into definite shapes, drawing with a crayon, or squeezing glue from a bottle in a controlled manner all help develop a child's fine motor skills and control of materials.
Self-Expression and Creativity
Children express themselves through art on a fundamental level. Sometimes their artwork is the manifestation of that expression, but more often, the physical process of creating is the expression. Picture the toddler who has a new baby sister busily pummeling his fists into Play-Doh; a six-year-old joyfully painting flowers with huge arm movements blending, reds and yellows; a ten year-old drawing a portrait of her grandmother who recently passed away. Creating art allows children to work through feelings and emotions, and referring to a finished piece of artwork helps a child talk about feelings in a new and meaningful way. Art also develops a child's creativity. Rather than being told what to do, answers and directions come from the child. Art is an experience that requires freethinking, experimentation, and analysis — all part of creativity.
It is important, however, to separate the notion of "talent" from "creativity" — a child does not have to create a masterpiece to have a meaningful artistic experience. Art is a process, not just a product. It's tempting to want our children's art to turn out "cookie-cutter perfect" to prove that they are successful and on track. It's reassuring to know that we can relax! Where art is concerned, it is the process of creating — exploring, discovering, and experimenting — that has great value. Through self-expression and creativity, children's skills will develop naturally, and their ability to create will soar.
Source: MaryAnn F. Kohl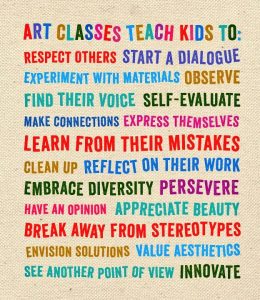 Summer 2021
The research is in. ART is necessary for developing the creativity of our conscious mind.
Self-Awareness Art Program where art and science converge.
 icreatewhatibelieve.com/ is a web site loaded with plenty of resources for Kids of all Ages, Parents and Teachers. It offers a short Introduction video explaining clearly how and why art is so necessary. Check it out!
"The I Create What I Believe! Program is designed help both children and adults transform old beliefs, perceptions, and behaviors that hinder their ability to succeed. I invite you to watch this captivating video that simplifies the science and demystifies the biology and psychology behind this proven program."

Happy Spring!
April 1, 2021
First Grade
In celebration of Women's History month, the first graders learned about contemporary woman artist, Georgia O'Keeffe. They learned about abstract art and how to mix analogous colors. They painted big 18"x 18", bright, beautiful flowers to welcome in spring. O'Keeffe would be proud!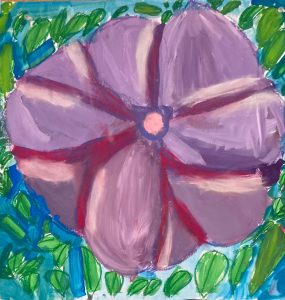 Addy's flower (purple is next to blue and blue is next to green, on the color wheel)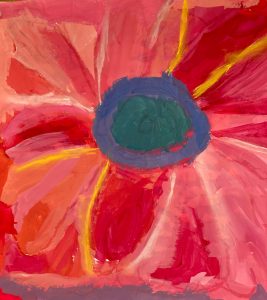 Jace B. flower (red is next to orange and purple on the color wheel)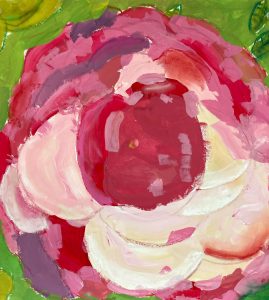 Conner W. flower (red is next to purple on the color wheel and
he used the complementary color green for the leaves which we
learned about in our last project painting Squirrels)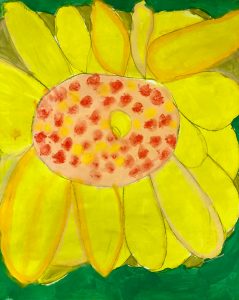 Westin's flower (yellow is next to orange and green on the color wheel)
Pre-K and Kindergarten
The children have been doing various art projects related to the theme of "Feelings". Discussion has revolved around the kinds of feelings we have and how we express them with color and shape. I took photographs of the children as they acted out a feeling of their choice. We then glued that photograph onto a large paper and they drew what made them feel that way. They had fun guessing which feeling was being portrayed.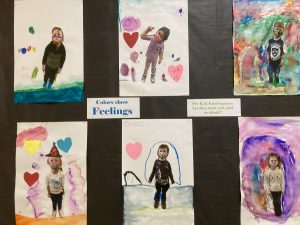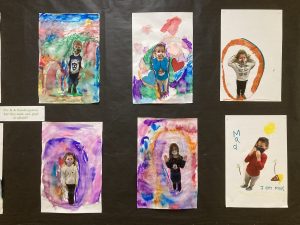 Third Graders
Third graders are busy weaving potholders and learning about patterns. They are working very hard to keep the structure of under, over and progressing with eye hand coordination. They are learning how to fix a mistake and are quite proud of their efforts and are taking their potholders home to share.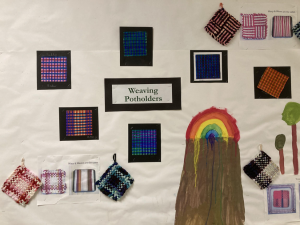 Fourth Graders
In collaboration with Mrs. Garrison, fourth graders have made self-portraits to go with their bodies they traced in health class. They have learned about the correct proportions of the face while looking into a mirror at themselves. I have encouraged them to add shading and color with makers and chalks. The project is called Mind and Body by 4th grade.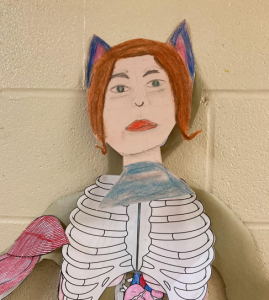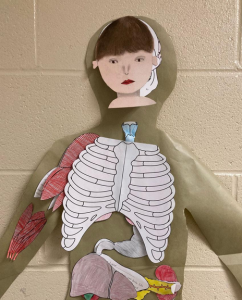 Ashlyn                                                                                                          Caleb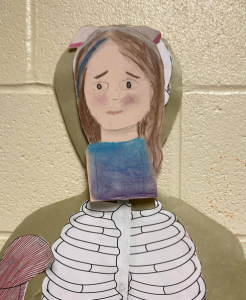 Olivia                                                                                                           Scarlett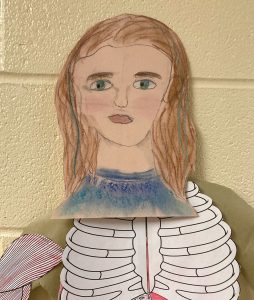 Isabella
January 20th, 2021
First Graders
Learned all about shading and how to make art work look 3-D. They did a great job!
 
 

Second Graders
LOVE Sock Puppets!

     
Look! Ben's puppet is talking                                                              Finn's puppet has fangs

Third & Fourth Graders
Painted beautiful illustrations of their favorite Read Aloud Book, Roz The Wild Robot.
Children learned how the writer and illustrator, Peter Brown created the main character, Roz.
In art class, we used a real airbrush to make spattered TEXTURES.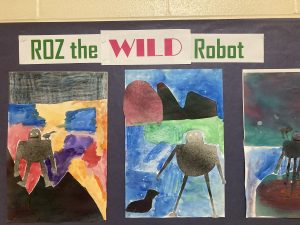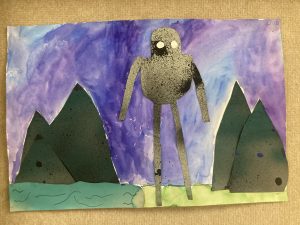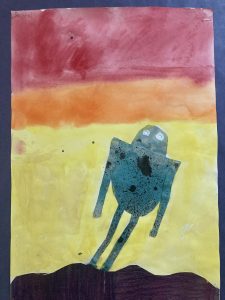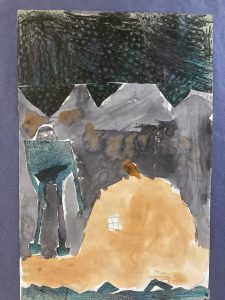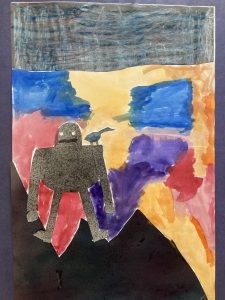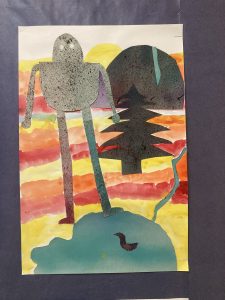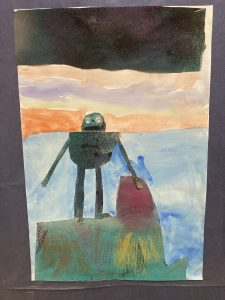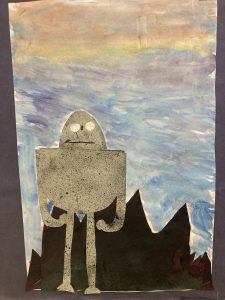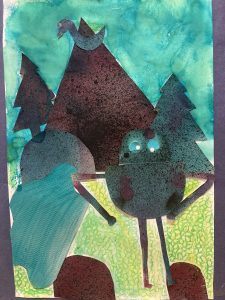 Fifth Graders
Painted landscapes on canvas with acrylic paints. Just BEAUTIFUL 🙂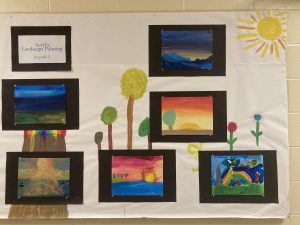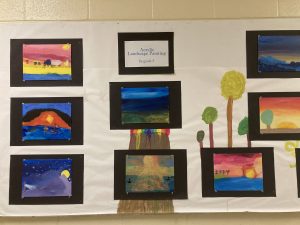 Sixth Graders
Each student made their own hand, exploring how the human hand really moves. Amazing!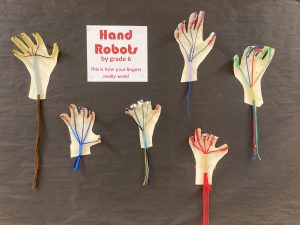 —————————————————————————————————————————————————
Art Room News:
Happy Halloween!
October 30th, 2020
We made our own masks. 🙂
click on the photos to see your Artwork
Fall Art Lessons

James Allen, 6th grade Castle
Hello everybody, students, parents and teachers of Hampton Elementary School. During this time of online Distant Learning, use this web page for art lessons and viewing student work. Parents enjoy this time making art with your children! I will post links and ideas for you to try and have fun doing art projects, too. You don't really need a lot of special materials to fire up your imagination. Use what you have handy at home. Pencils for sketching, crayons for coloring. Paper for drawing on and folding. Clay for building. One idea maybe for older children and I know this sounds weird, but I found natural deposits of clay in small streams in Hampton. Might be fun when the weather warms up to take a walk in the woods and see what you can find. There is so much online to try, one word of caution though, keep it simple, and doable for your child. Mostly, have an attitude of exploring to see what might happen and what you can make. One of my favorite websites for art ideas is https://www.deepspacesparkle.com/ They have free projects and usually are very timely and fun. https://how2drawanimals.com/ is a favorite website of the children. It takes them step by step in drawing any animal they choose. YouTube is fantastic to search for art projects to do with your children. I learned how to make a Duct Tape wallet along with 5th graders. When I teach art I try to relate it to what the children are interested in or a famous artist or art historical period. Speaking of Art History, here is a fun way to learn about famous artists and paintings. People at home are recreating famous paintings with stuff they have on hand. Check this out, what a creative and fun way to learn about Art!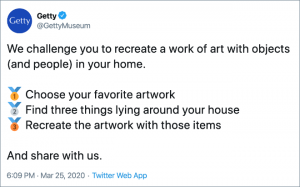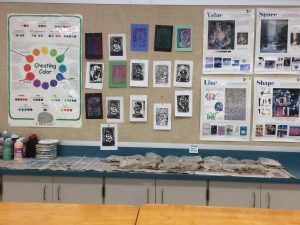 Students you know how special art is and how much fun it is to make something new that no one has ever seen before. Besides, ART makes you SMART! Remember if something doesn't work the first time, TRY IT again. I have been trying to bake bread for a couple of days, and it hasn't been coming out very well. I haven't had success YET! My bread came out of the oven and looked like a ROCK! And, it takes all day to make bread to put in the oven. But, I am not giving up! I love fresh baked bread YUM! And, guess what! I think I figured out what I did wrong. I am going to give it another try. This will make the third time. Cooking is an Art and making Art is like cooking 🙂 Send me pictures of your Art work. I will put them here to share with everybody, if that is okay with you. Water Color Daffodils by Jayden 6th grade We painted 100 Mixed colors We studied 17th century architecture and Om picked his favorite house to build out of cardboard 6th grade And studied artist Paul Klee Sean was so proud of his bee Addy enjoyed making hers too!