Art Room News:
Happy New Year!
January 20th, 2021


First Graders
Learned all about shading and how to make art work look 3-D. They did a great job!
 
 

Second Graders
LOVE Sock Puppets!

     
Look! Ben's puppet is talking                                                              Finn's puppet has fangs

Third & Fourth Graders
Painted beautiful illustrations of their favorite Read Aloud Book, Roz The Wild Robot.
Children learned how the writer and illustrator, Peter Brown created the main character, Roz.
In art class, we used a real airbrush to make spattered TEXTURES.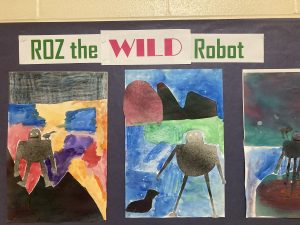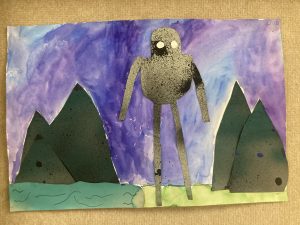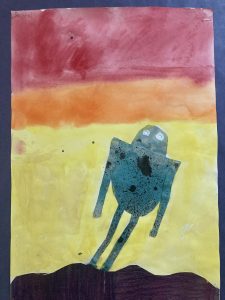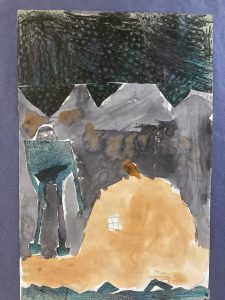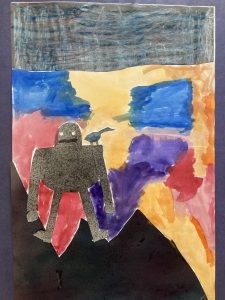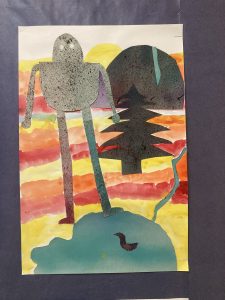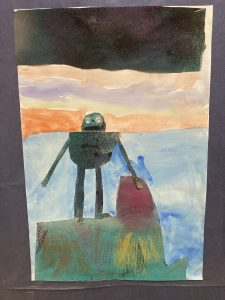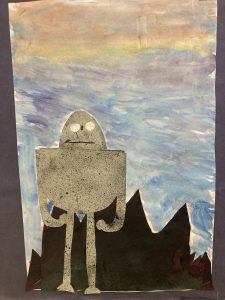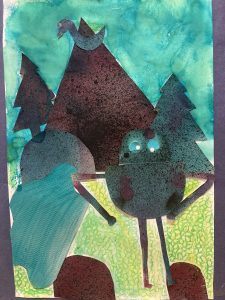 Fifth Graders
Painted landscapes on canvas with acrylic paints. Just BEAUTIFUL 🙂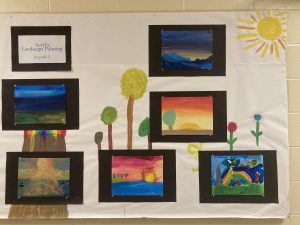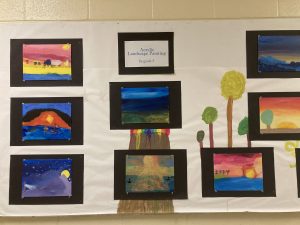 Sixth Graders
Each student made their own hand, exploring how the human hand really moves. Amazing!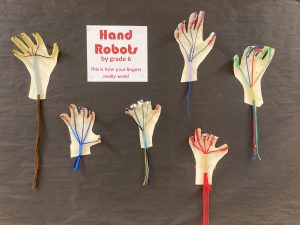 —————————————————————————————————————————————————
Art Room News:
Happy Halloween!
October 30th, 2020
We made our own masks. 🙂
click on the photos to see your Artwork
Fall Art Lessons

James Allen, 6th grade Castle
Hello everybody, students, parents and teachers of Hampton Elementary School. During this time of online Distant Learning, use this web page for art lessons and viewing student work. Parents enjoy this time making art with your children! I will post links and ideas for you to try and have fun doing art projects, too. You don't really need a lot of special materials to fire up your imagination. Use what you have handy at home. Pencils for sketching, crayons for coloring. Paper for drawing on and folding. Clay for building. One idea maybe for older children and I know this sounds weird, but I found natural deposits of clay in small streams in Hampton. Might be fun when the weather warms up to take a walk in the woods and see what you can find. There is so much online to try, one word of caution though, keep it simple, and doable for your child. Mostly, have an attitude of exploring to see what might happen and what you can make. One of my favorite websites for art ideas is https://www.deepspacesparkle.com/ They have free projects and usually are very timely and fun. https://how2drawanimals.com/ is a favorite website of the children. It takes them step by step in drawing any animal they choose. YouTube is fantastic to search for art projects to do with your children. I learned how to make a Duct Tape wallet along with 5th graders. When I teach art I try to relate it to what the children are interested in or a famous artist or art historical period. Speaking of Art History, here is a fun way to learn about famous artists and paintings. People at home are recreating famous paintings with stuff they have on hand. Check this out, what a creative and fun way to learn about Art!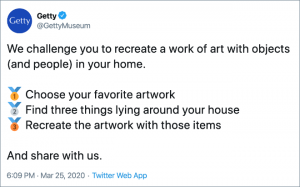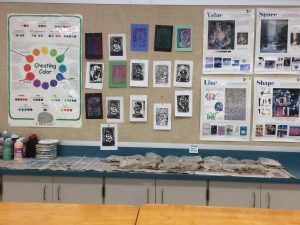 Students you know how special art is and how much fun it is to make something new that no one has ever seen before. Besides, ART makes you SMART! Remember if something doesn't work the first time, TRY IT again. I have been trying to bake bread for a couple of days, and it hasn't been coming out very well. I haven't had success YET! My bread came out of the oven and looked like a ROCK! And, it takes all day to make bread to put in the oven. But, I am not giving up! I love fresh baked bread YUM! And, guess what! I think I figured out what I did wrong. I am going to give it another try. This will make the third time. Cooking is an Art and making Art is like cooking 🙂 Send me pictures of your Art work. I will put them here to share with everybody, if that is okay with you. Water Color Daffodils by Jayden 6th grade We painted 100 Mixed colors We studied 17th century architecture and Om picked his favorite house to build out of cardboard 6th grade And studied artist Paul Klee Sean was so proud of his bee Addy enjoyed making hers too!