Rebecca Moran
"I found I could say things with color and shapes that I couldn't say any other way… things I had no words for."
―
Contact Information:
(860) 455-9409 x118
rmoran@hamptonschool.org
Welcome HES Family and Friends
to the Virtual Art Room.
I will be posting art work from your children here to share with you throughout the year.  My name is Rebecca Moran and I am so excited to be the Art Teacher for Hampton Elementary School. The creativity of your children is of great inspiration to me! Art the children do will be displayed and sent home for you to enjoy.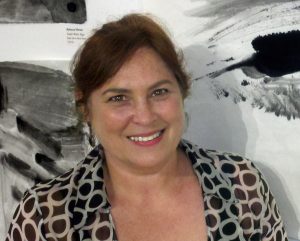 Welcome to the 2019-2020 school year in the Art room at Hampton Elementary School.
I want to extend to you and your child my warmest welcome into the Hampton Elementary Art room.
What does Art Education teach? It teaches students how to observe, experiment, self-evaluate, reflect, persevere, innovate, envision solutions and problem solve, appreciate, craftsmanship, and, yes, even how to clean up!
My philosophy for learning is that each child is unique. I am here to help your child discover his or her individuality and creativity through making art as a hands-on experience. Throughout the school year, I plan on exposing the children to a wide range of artists, art styles and art mediums. We will explore creative ways, both individually and in groups to solve art problems and have fun doing it. Connections will be made with math and language arts projects, as I'm a big fan of collaborating with classroom teachers. Many important skills including verbal and written communication as they relate to visual art will be encouraged.
Your child makes progress through honoring a classroom atmosphere of respect, responsibility and safety in the Art room. I want your children to feel confident that they can apply what they've learned in art class to real-life situations, and to develop an appreciation for the arts. It is my expectation that all students will do their personal best. Art provides the opportunity for students to experience a different atmosphere from their regular classroom setting. It can be fun, relaxing, messy, exciting challenging and many other potentially new and sometimes out of the ordinary experiences.
Throughout the year, your children's work will be exhibited and cover the walls of the school. The children are proud of their art work and it will be sent home after being shared with the school community. Be sure to look for it when your children bring their art work home.
Art activities are structured such that children are provided enough time to complete their work during their scheduled class. When possible, the children are provided additional time during recess, as well as given opportunities to complete their projects as homework.
The art room makes good use of recycled materials. Feel free to add to the arts and crafts supplies by donations of newspapers, egg cartons, string, yarn, TP rolls or any other materials you wish to contribute.
Collaboration, cooperation, and open communication between home and school are keys to building a strong foundation for a successful school year. Please feel free to contact me at any time. I can be reached through the main office (860) 455-9409 or via e-mail (rmoran@hamptonschool.org). If you would like to talk in person, I am available to schedule appointments before and after school.
Sincerely,
Rebecca Moran
A little bit about me. I am an exhibiting artist, trained as a Graphic Designer and an Adjunct Professor of Visual Art at Eastern Connecticut State University where I teach Drawing and Painting. I have an MFA from the Art Institute of Boston at Lesley University and grew up in Mansfield, CT. I have been studying Northern style Chinese Ink Brush painting for many years. My art work is online at www.rebeccajmoran.com  if you are curious, take a look.
I receive and save little unsolicited notes from the children. It shows me how important Art is to them and makes my day. Here's one by Austin and Jack  🙂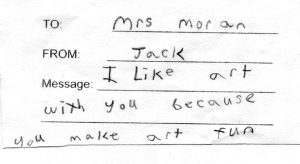 Here are some highlights of children's Art. Wow!
Water Color Daffodils by Jayden 5th grade

3rd grade painted 100 Mixed colors

We studied 17th century architecture and Om picked
his favorite house to build out of cardboard 6th grade

2nd grade studied artist Paul Klee

Sean was so proud of his bee 1st grade

Addy enjoyed making hers too! 1st grade