Rebecca Moran
"I found I could say things with color and shapes that I couldn't say any other way… things I had no words for."
―
Contact Information:
(860) 455-9409 x118
rmoran@hamptonschool.org
Welcome HES Family and Friends
to the Virtual Art Room.
I will be posting art work from your children here to share with you throughout the year.  My name is Rebecca Moran and I am so excited to be the Art Teacher for Hampton Elementary School. The creativity of your children is of great inspiration to me! Art the children do will be displayed and sent home for you to enjoy.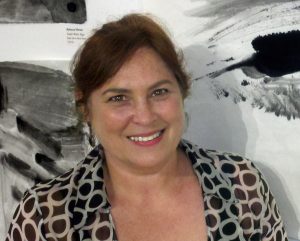 A little bit about me. I am an exhibiting artist, trained as a Graphic Designer and an Adjunct Professor of Visual Art at Eastern Connecticut State University where I teach Drawing and Painting. I have an MFA from the Art Institute of Boston at Lesley University and grew up in Mansfield, CT. I have been studying Northern style Chinese Ink Brush painting for many years. My art work is online at www.rebeccajmoran.com  if you are curious, take a look.
I receive and save little unsolicited notes from the children. It shows me how important Art is to them and makes my day. Here's one by Austin and Jack  🙂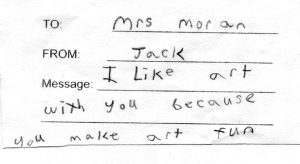 Here are some highlights of children's Art. Wow!
Water Color Daffodils by Jayden 5th grade

3rd grade painted 100 Mixed colors

We studied 17th century architecture and Om picked
his favorite house to build out of cardboard 6th grade

2nd grade studied artist Paul Klee

Sean was so proud of his bee 1st grade

Addy enjoyed making hers too! 1st grade